Six ladies (and I) travelled to the Hunter Valley to visit 2 boutique wineries (Black Creek Farm and Wynwood Estate) for tastings of their unique wines. After which we walked the very short distance to Twine Restaurant for lunch, with a glass of wine (of course)! The weather was not being very kind and by the time we finished lunch the rain was much heavier. Our coach captain kindly brought the bus as close as possible to the restaurant entry, so we didn't get too wet!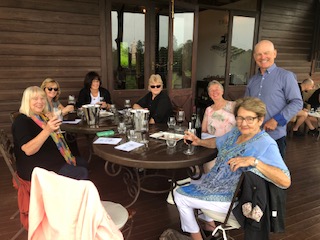 Our last stop was Sabor Dessert Restaurant….very decadent! This restaurant is always busy, and bookings are essential…knowing this I had chosen an option that meant we would be seated and served our drinks and dessert. No lining up on our trips!!
Our tasting plates arrived with 3 different desserts; we could also choose 2 drinks of the wide range of alcoholic and non-alcoholic. Several ladies chose hot chocolates or coffees as first choice, 2 of our lovely ladies preferred to stay with wine for both drinks. Don't be concerned for the rest of us though ……. our next drink of choice was a liqueur!! Not the small liqueur glass we expected but a larger glass…they don't skimp at Sabor!
Oh, you're wondering if we bought any bottles….of course we did!
Even though the weather was wet and chilly it didn't dampen our enthusiasm or spoil our day. It was another great day out with a lovely group of ladies.